Frotcom East Africa's eye-catching new outdoor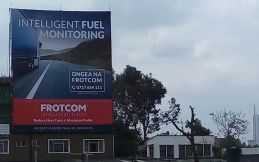 Frotcom East Africa is taking aim at potential new customers and targeting key concerns with a new outdoor campaign.
The new outdoor is strategically located on Mombasa Road. Linking Jomo Kenyatta International Airport to Nairobi's city center, this major artery is travelled by the bulk of Kenya's visitors, business people and casual travelers alike.
Spotlighting Frotcom's "Intelligent Fuel Monitoring", the ad targets a major local concern and key potential clients to an important aspect of Frotcom's fleet management solution to reduce overhead, enhance security and performance and, above all, maximizing profits.
Post tags:
Frotcom
Intelligent fleets
Vehicle tracking
Frotcom East Africa
Billboard campaign
Mombasa Road
Intelligent Fuel Monitoring
fleet management solution
Reduce overhead
Enhance security
Enhance performance
Maximizing profits