Frotcom International has got a new office!
A growing team and an increasingly demanding business set the need for bigger and better facilities.

We are celebrating this year the 20th anniversary of Frotcom's first release, and there is nothing like moving office and setting up new facilities to better support our growing customer base. Our new office in Carnaxide, Portugal, is a stone's throw away from the center of Lisbon, and located in one of the main logistical axis' surrounding the Portuguese capital.
Our staff have been transferred to the more modern and professional facilities at the award-winning "Ramazzotti" building, preempting the company's continued growth and expanded business offer.
We worked hand-in-hand with the design company to not only create an efficient and modern workspace, but also one that reflects the brand image and core values of Frotcom.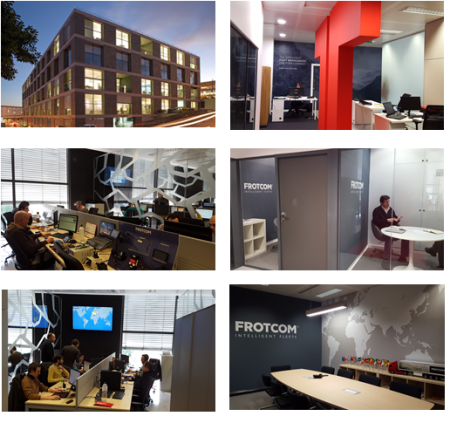 According to Valério Marques, CEO at Frotcom International, "The new office really stands out for its design and elegance. It has been prepared to accommodate a growing team of professionals that work every day to improve Frotcom and support business.The team has already embraced the new home with a lot of enthusiasm, since this is a great improvement from the former office where space was already running short.
Additionally, we now have functionally-oriented areas such as the new cool studios or sound booths that we can use during phone or skype calls, or break-out zones for the more casual conversations. This means that communication and coordination has become easier and more pleasant.
Ultimately, the goal is still the same: to continue to grow the team in order to provide an ever better service to Frotcom Partners and Users."
Post tags:
Frotcom
Intelligent fleets
Edifício Ramazzotti
Vehicle tracking
Fleet management
New office