Self-driving truck goes 120 miles for $470 Budweiser delivery
The beer run of the future is here!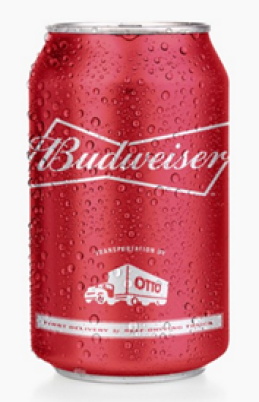 A driverless truck hauling 51,744 cans of Budweiser successfully made a 120-mile trek through Colorado — making it the "world's first shipment by a self-driving truck," according to Uber-owned company, Otto.
The 18-wheeler barreled down the I-25 last week, navigating from Fort Collins, Colorado all the way to Colorado Springs.
"This shipment is the next step towards our vision for a safe and productive future across our highways," Otto said in a press release. "Truck drivers will have the opportunity to rest during long stretches of highway while the truck continues to drive and make money for them."
"When you'll see a truck driving down the road with nobody in the front seat, you'll know that it's highly unlikely to get into a collision, drive aggressively, or waste a single drop of fuel," the company said.
There was a driver on board this landmark delivery, but he sat in the sleeper in the back of the cabin, the entire trip.
Otto, the self-driving vehicle operation which was acquired by Uber in August for $680 million, promised that its partnership with Anheuser-Busch was "just the beginning."
"Our companies are excited to transform commercial transportation together," the release said.
 
Source: New York Post
Post tags:
Budweiser
self-driving truck
Otto
Anheuser-Busch
Improve driving behavior