The year is 1997.
A small team of young engineers huddles around a blue box connected to a computer, lights flashing in pre-defined patterns. A command is sent out to locate another box. A black box.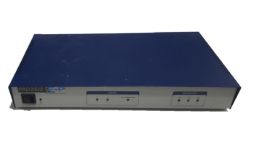 The black box is on a truck, half a world away. The blue box connects our PC to an Inmarsat-C earth station providing satellite data communications over Europe, Africa, South America and parts of North America.
The command was sent more than 3 minutes ago. So far, no reply.
Then lights flash in a different sequence and a notification shows up on the computer screen: "New position received". Smiles and pats on the back all around as we click the OK button and a map on the screen reveals the truck's location.
This new GPS thing is magical. Hard to believe how we can locate a vehicle in under 5 minutes, wherever it is.
So now that we have a cool product, let's pick a name for it. There's no shortage of ideas but in the end we settle for "Frotcom", a mix of the Portuguese words for "fleet" (frota) and "communications" (comunicações).
Later that year, we came up with another version of Frotcom using GSM/SMS instead of Inmarsat-C, cutting in half the investment needed and communication costs. It also reduced the roundtrip time from 5 mins to 20 seconds.
------
It's hard to believe we're already celebrating the 20th birthday since that initial moment when we presented Frotcom to the first customers.
We've come a long way: Frotcom is used today by more than 3500 companies worldwide and we didn't rest on our laurels. We've expanded Frotcom features to a lot more than just locating vehicles. Today it is a full-fledged suite of fleet management tools and analytics, which allows our customers to drive a successful business.
Happy 20th birthday Frotcom!
Post tags:
Frotcom
Vehicle tracking
Fleet management
Fleet Intelligence
Satellite communication
GPS tracker
GSM/SMS
Celebrating 20 years