FK Borec Junior's road to Victory
In mid-January, youth players from 12 teams across Macedonia gathered to play the GFK Negotino youth tournament, ultimately won by FK Borec Junior Veles, the Frotcom Macedonia-sponsored youth team.
Frotcom Macedonia's commitment to social responsibility is paying off big time. The talented, young FK Borec Junior Veles team gave an outstanding performance, successfully defeating each opposing team and conquering the coveted tournament trophy.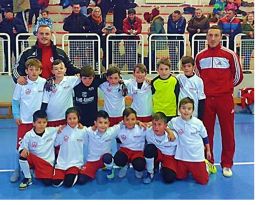 The continuation of a successful relationship started in 2015, Frotcom Macedonia's Country Manager, Dragan Kostovski gushed words of praise for the young ones: "Our generation 2008/07 children attending the Christmas tournament in Negotino put their hearts and minds to it and it paid off. They won first place and became the champions of the tournament. Nothing can put into words how proud we are of our team."
He added, "I want to congratulate all the guys for their discipline in the game and team spirit. We wish them all the success in the future with even more desire and effort to climb the ladder, beyond even football... BRAVO guys!"
A special note of praise was awarded to 8 year-old Martin Gjorgjiev who was named Player of the Tournament.
In a few weeks' time, the team will go even further by participating in the Sandanski (Bulgaria) international youth tournament which will bring together players from across the Balkans.
Post tags:
Frotcom
FK Borec Junior Veles
Intelligent fleets
Vehicle tracking
Fleet management
Frotcom North Macedonia