Frotcom caught the attention of a magician and TV celebrity at Transpotec Logitec 2017
Frotcom Italy makes its debut at Transpotec Logitec Fair with live demos, one-to-one meetings and a full battery of feature presentations of Frotcom's fleet management solution.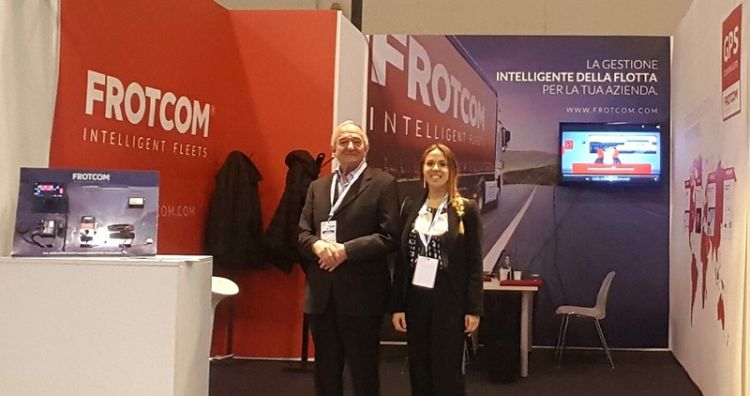 The northern city of Verona, Italy is host to Transpotec, the country's leading Transportation and Logistics exhibition. Frotcom Italia was busy at Hall 7 for the duration of the event, where it carried a strong message to the audience, aimed at the heart of the road transportation business: Frotcom helps companies save money by controlling their fleets' activities, reducing costs, increasing productivity, improving customer service, enabling risk mitigation and extending vehicle life expectancy.
According to Gianfranco Casagli, Director at Frotcom Italy, "Transpotec 2017 was a positive experience. It proved to be a space to make new contacts and new businesses, meet with customers, and get in touch with the latest sector developments".
With a non-stop flurry of meetings, demos and presentations, Frotcom Italy introduced audiences to the award-winning vehicle tracking and fleet management system, impressing would-be customers with the latest innovations and developments in Workforce Management, Vehicle Tracking and Fleet Management. By the end, Frotcom had even caught the attention of magician and TV celebrity, Marco Berry (picture on the right), who made an impromptu visit to the stand for some selfies with the staff.
About Transpotec 2017 - A four-day tradeshow organized by Fiera Milano, known worldwide as the place to find the latest vehicles and technology in the road transport industry. This year it was host to a record number of 84,000 visitors from over 86 countries, with an overwhelming participation of transportation business owners and managers.
Post tags:
Frotcom
Frotcom Italy
Intelligent fleets
Fleet management
Vehicle tracking
Transpotec Logitec 2017