Matatus: Much more than just a mode of transportation
For any fleet manager who has pondered how branding can make their offering more attractive to customers, Nairobi has the answer, be bold.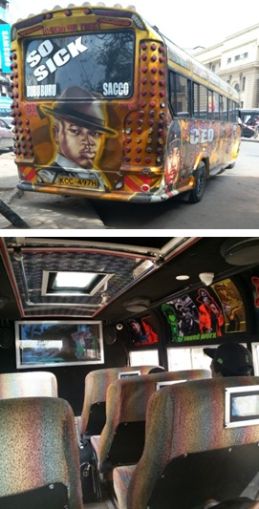 Matatus, public transport buses/vans are iconic on the busy streets of Kenya's capital. Graffiti artists compete to make each matatu louder than the next with custom designs covered in flashy colors. The more glitzy and effervescent the matatu, the more passengers it attracts. Matatus have long been a unique culture that shows off the best of local creativity.  Matatus are always well kept, clean and fresh smelling. Making a journey, an enjoyable time out from the bustling city. And as crucial as the graffiti, matatus are fast; the drivers know how to manoeuver through traffic jams during rush hours, as well as every shortcut, to wherever you want to go.
To complement the eyeball popping exteriors, the interiors of the matatus are always artistic and stimulating. Designed for maximum comfort, some even have custom made sound systems fitted under the seats. Others have plasma screens so customers can enjoy music videos, news, and popular soaps. The most common matatus come with a small screen fixed behind each seat to give every passenger their own in-journey entertainment. Matatus also have free wi-fi to attract tech-savvy youth who want to browse the internet or chat with their friends. As well as business people who need to stay constantly connected to office and clients.
A matatu is so much more than just a mode of transportation, and before one can hit the road, it requires months of loving preparation. Everything starts with mechanics building up the stripped chassis of a new truck. Next, they weld the skeletons and attach the panels to create a canvas for the artists to put their creativity to work. The whole process employs many workers and graffiti artists, most of whom are young people.
A custom built matatu can cost over 2 Million Shillings ($20,000). While the cost is hefty, it is easily earned back once the matatu starts collecting passengers.  People will pay more to ride in a custom matatu covered in graffiti than they will pay to ride in a matatu that looks ordinary or fails to capture their imaginations.
A few years ago, the National Transport and Safety Authority (NTSA) banned screens, music, and graffiti on matatus. During the ban, all matatus were required to be white with a yellow stripe.
According to the NTSA, the ban was meant to promote safety and keep windshields clear of graffiti.
The ban was lifted in 2015 by President Uhuru Kenyatta who saw the graffiti as innovative and a source of livelihood for thousands of young people.  
The unique matatu has since gone from strength to strength and is a source of pride for Kenyans. Proving that bold creativity and good business can travel very happily together.
References:
1.    Africa.com, How Graffiti Artists Are Driving The Matatu Industry In Nairobi
2.    Solutions4Africa, Kenya's Resilient Matatu Minibuses Gain Status As Public Transport Bans Loom
Post tags:
Matatu
public transport
National Transport and Safety Authority
Fleet management