Benchmark sample reports for a better fleet performance
Discover exactly how well your fleet is performing with free reports.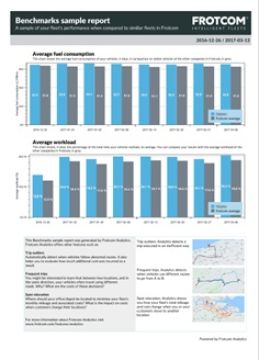 Frotcom Analytics
has a
Benchmarking
feature that supplies you with a
weekly report
containing your
fleet's key performance indicators
; it allows you to compare several variables that characterize your fleet, against the averages of similar fleets.
In addition, it is possible to receive
weekly Benchmark sample reports
, conveniently via email. Intended for
senior management
, who want a comprehensive summary of the
performance of their fleet
against key indicators, there is no need for complex software, the report simply arrives via email in an easy to review format.
From the data contained in the Benchmarking activity, you will know exactly how well your
fleet is performing
against your competitors.
If you are interested in receiving our free complimentary report via email, contact your
Frotcom Certified Partner
who will be pleased to assist you.
Post tags:
Frotcom
fleetperformance
Fleet performance metrics
Fleet performance monitoring
Fleet performance management tool
Fleet management software
GPS vehicle tracking