How to achieve ELD compliance with Frotcom?
In December 2015, the USA's Federal Motor Carrier Safety Administration (FMCSA) published its final ELD mandate (Electronic Logging Device).
For more than 3 million American truck drivers who log their hours, the ELD certified electronic logging devices will become the rule, after December 18, 2017.
This move, designed to accurately track, manage and share Records Of Duty Status (RODS) data, aims to save time for fleet managers, fleet owners and drivers. It will make their life easier without the need to spend so much time doing administrative work. According to the FMCSA, ELD drivers were previously spending over 20 hours every year on paperwork.  That's about 15 minutes per workday.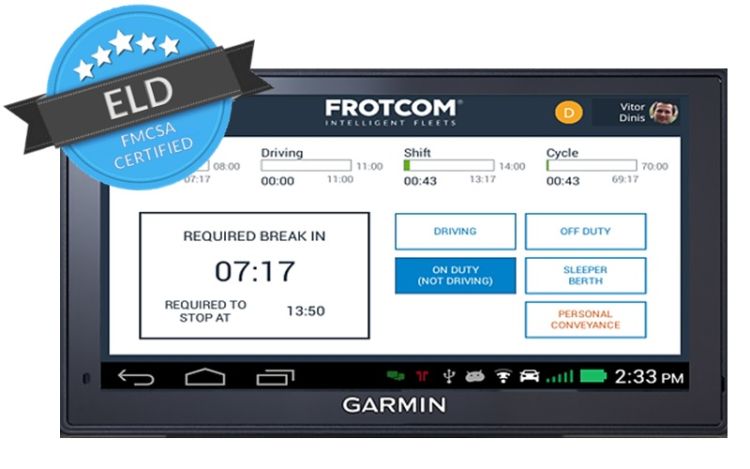 Frotcom's ELD module uses Garmin's line of Android devices, the fleet 6x0 and 7x0.
ELD mandate compliance with Frotcom
Frotcom offers ELD based on Garmin's best in the class device: the fleet series. In the near future, Frotcom's ELD will come with other great tools such as Driver Vehicle Inspection Report (DVIR) and
International Fuel Tax Agreement (IFTA).
You can also use Frotcom to dispatch jobs and communicate with drivers, collect forms and navigate your drivers along optimized routes.
To maximize efficiency, you need to be able to assign new tasks and reroute drivers in the field. Working out whether drivers have enough "time left" to complete tasks can be difficult; miscalculations can lead to violations and heavy fines. Conversely, they can leave drivers and vehicles in downtime, unnecessarily.
Frotcom is there to simplify the management of driving times within the new ELD regulated limits, making it easy to decide which driver can be assigned to a new task, without risking violations and resulting fines.
 
Benefits of ELD compliance with Frotcom
Full compliance with US ELD and HOS (hours of service) legislation
Fast and easy to demonstrate and share RODS with safety officials
Accurate and clear records
Reduction in the number and seriousness of mistakes
Fully integrated and comprehensive fleet management solutions
Integration with Workforce Management modules for job completion, forms, messaging and navigation
Use of Garmin's best in class line of onboard terminals (fleet series, Android-based)
By December 18, 2017 - if this mandate is applicable to you - your drivers in the USA must be on either an AOBRD (automatic onboard recording device) or an ELD final rule solution. If you are working towards this mandate, Frotcom has the technology to support full FMCSA compliance.
Post tags:
Frotcom
ELD Compliance
Maximize efficiency
Regulate driving times
Avoid traffic violations