Fleet management capacity in Frotcom expanded with the new Garmin fleet 700 series
The new Garmin fleet™ 700 series are the new tablets certified to work with Frotcom, that empower your mobile workforce to perform their jobs more efficiently.
Combining the power of Garmin navigation for fleet management with the flexibility of a scalable tablet and Frotcom's Mobile Workforce Management application, allows you to dispatch jobs/tasks to your drivers more easily and effectively. You can then track each job in real-time as it progresses. Your customers will appreciate the control you have over each job as it's carried out.
The innovative fleet series devices are available in three models:
 
Garmin Fleet 770
Garmin Fleet 780
Garmin Fleet 790
According to Chad Sallman, Garmin's senior business development manager for commercial fleet Solutions, "Fleet owners can expect cutting-edge tablets with world-class navigation and complete fleet-management solutions, that can be efficiently tailored to meet their business needs."
These state-of-the-art devices from Garmin are enhanced with the unique features listed below, ensuring efficiency and reliability. These innovations make the Garmin fleet™ 700 series the optimal partner for Frotcom.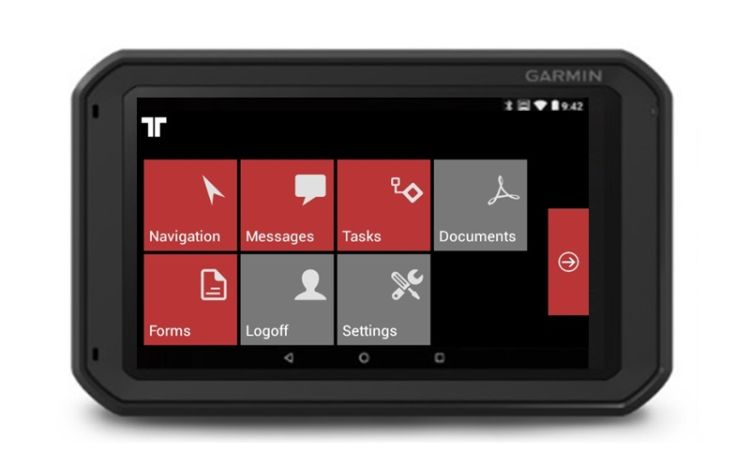 Main features of the game-changing Garmin fleet™ 700
Apart from establishing an open, scalable platform, this series of Garmin tablets offer a number of features that will provide time and fuel-saving benefits, meeting the demands of everyday driving and outdoor business use:
 
Wi-Fi® Connectivity
The innovative Garmin fleet™ 700 includes onboard Wi-Fi for internet connection.
 
Customized Truck Routing
The Garmin fleet™ 700 provides detailed maps of North America, Europe (45 countries), Australia and New Zealand, with lifetime map updates, that also include truck-related restrictions — such as bridge heights, sharp curves, weight limits, and more, as well as related information for most major roads and highways.
 
Built-in Dual-purpose Camera
The Garmin fleet 780 and Fleet 790 tablets add a built-in dual-purpose cam. It functions as a dash camera for the road and a productivity camera when on site.
 
Open-SIM Tablet
The Garmin fleet 790 has an embedded 4G modem with open-SIM cellular connectivity for an "always-on" internet connection.
Each device in the fleet 700 series features a 7-inch capacitive touch display and boasts industrial-grade hardware specifically tailored for long-haul commercial truck use, with a magnetic mount so drivers can easily remove the tablet to help businesses stay "on the go."
Frotcom's Mobile Workforce Management integrated with Garmin fleet™ 700 series is now available from your Frotcom Certified Partner.
Know more about Frotcom's Mobile workforce management.
Source: Garmin
Post tags:
Garmin
Frotcom
Vehicle Tracking System
Fleet management software
Vehicle tracking device
Garmin GPS
Garmin Fleet