Frotcom Greece shows off latest developments at Transport Show 2016
Biggest road transportation trade show in Greece on track to become one of the region's main events.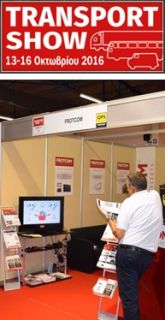 Celebrating its second successful edition (the first taking place in 2014), Transport Show 2016 took place in Athens, at the halls of MEC Exhibition Center from 13th to 16th of October, 2016, and is now on track to become the prime road transportation and logistics event, offering a unique opportunity for business professionals to acquaint themselves with the latest trends in road transportation.
The event, open to all road transport business professionals - from drivers to logistics operators and service providers – gave attendees an opportunity to witness first-hand the latest vehicle models, services and technologies available on the Greek market, as well as attend technical workshops and test drive the latest vehicles.
Frotcom Greece, which has already firmly established the brand in Greece, made its presence felt by providing demonstrations to would-be customers on the full scope of benefits of Frotcom, while existing partners were brought up to speed on the latest developments and features.
Nasos Sideris, Director of Frotcom Greece said "Transport Show is a perfect opportunity for us to introduce and show Frotcom to the attendees. It is about time that we take advantage of this through such a show, and we are very pleased with the outcome".
Post tags:
Frotcom
Frotcom Greece
Intelligent fleets
Exhibition
Transport Show 2016