According to a recent study published in the journal Frontiers in Psychology, drivers who follow another car to a destination are more likely to make risky driving decisions.
It's not unusual to ask to follow another car when you don't know the directions to your destination.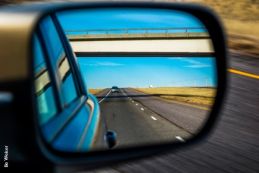 But this can be stressful; as you can easily lose the car you are following or engage in risky behavior, such as driving too fast, making erratic turns and sticking too close to the vehicle in question. The fear of getting lost and the effort involved in keeping the car ahead of you in view encourages poor driving decisions. A recent study conducted by Robert Gray, Professor in Human Systems Engineering at Arizona State University, USA and published in the journal, Frontiers in Psychology, offers proof.
Professor Gray and his team of researchers recruited students with a valid driving license to participate in a driving simulation.
To begin with, and to get an idea of their basic driving behavior, the participants were asked to drive wherever they wanted in a simulated city. The results were compared to how the same drivers behaved when guided by a navigation system and when asked to "follow a friend's car". Assessing their general speed, distance to the car in front and the time it took to move lanes, each stage included hazards to see how their behavior changed under different driving scenarios.
The study concluded that when drivers were 'following a friend', they drove closer to the vehicle ahead, faster - making turns at more erratic speeds, cutting in front of pedestrians, accelerating through traffic lights as they turned red - and changing lanes hastily, compared to how they drove with a navigation system or in normal conditions. It is important to note that in the simulation, the lead car and vehicles following them did not break any laws.
Professor Gray concludes by offering some advice for when a friend or colleague offers to show you the way, politely decline, get the address and use a map or navigation device so you know how to get there yourself.
It could make the difference between arriving safe, rather than sorry.
Post tags:
Frontiers in Psychology
Arizona State University
Road safety
Driving behavior
Follow a friend's car
Follow a leader car